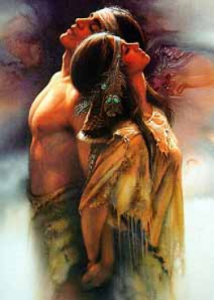 Come join us in celebration, those who love sunshine on meadow Who love shadow of the forest, love the wind among the branches and the palisades of pine trees, and the thunder in the mountains whose innumerable echoes flap like eagles in their eries.
Listen to this song of marriage. How, from another tribe and country came a young man, "give me as my wife this maiden, and our hands be clasped more closely, and our hearts be more united.
Thus it is, our daughters leave us, those we love and those who love us. When a youth with flaunting feathers beckons to the fairest maiden.
From the sky the sun benignant looked upon them through the branches, Saying to them, "oh, my children life is checkered shade and sunshine."
The two figures man and woman Standing hand in hand together, with their hands so clasped together that they seem in one united. And the words thus represented are, "I see your heart within you."
Sing them songs of love and longing Now, let's feast and be more joyous.