Traditional Unity Candle Ceremony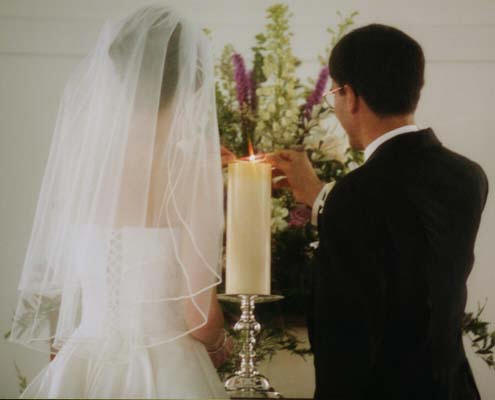 "___________________ and ________________ the two lighted candies symbolize your separate lives, your separate families and your separate sets of friends. I ask that you each take one candle and that together you light the center candle.
The individual candies represent your individual lives before today. Lighting the center candle represents that your two lives are now joined to one light, and represents the joining together of your two families and sets of friends to one."
(You can also involve children in the unity candle ceremony )


Non-Traditional Unity Candle Ceremony Ideas
Use these very non-traditional poems, readings, and ceremonies from ancient traditions around the globe as an unusual addition to the lighting of your unity candle.

Pagan Unity Candle Ceremony
Will the parents of our bride and groom please come to the altar and light candles representing the separate families and pasts from which (bride) and (groom) have come today to be joined together as one?"
(Parents come to the altar and light their tapers.)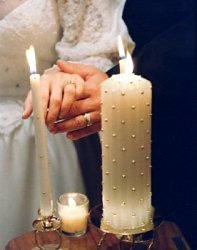 "Above you below you, forever surrounding you shall be the pledge you make unto each other today. It is the pledge of the truth and purity of your every breath. The constant friendship of your hearts. The passion and fire of your spirits and the deepest love your souls have to give. It is the pledge of all that is within you. The only true pledge that one heart can offer to another."
(Bride and groom step up and join parents, each taking the candle of their past in hand.)
"You are now as Husband and Wife offering yourselves, and all that has come to pass unto each other, towards the creation of your future, and to all that is yet to come."
(They join hands & light the center candle together, creating the circle of life. They then place the tapers back in their holders, and snuff their flames.)
"The light that remains is the light of God's love, the light in which you shall be forever as one."
Contributed by April Gismondi, The Church of Ancient Ways, Long Island, NY


Universal Spirit Quest Unity Candle Ceremony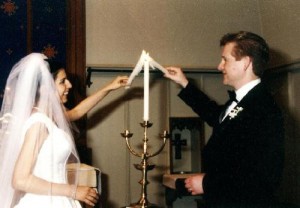 The following prayer/poem by Harold Douglas is frequently recited by the officiate while the bride and groom light the Unity Candle:
"Soft mists embrace two golden flames,
Alone they search the night.
Two souls adrift in dreams of love,
They seek to claim the light.
The path is long from which they came,
But sure they are it's right.
Two flames embrace in dreams of love,
Two Souls – Two Hearts Unite."
Contributed by Dr. Maureen Jones-Ryan of Universal Spirit Quest


Interfaith Unity Candle Reading
"From every human being, there rises a light that reaches straight to heaven. And when two souls are destined to find each other, their two streams of light flow together and a single brighter light goes forth from their united being. They do not lose their individuality; yet, in marriage, they are united in so close a bond that they become one. Now, following the profession of their marriage vows, they will light the large center candle from the smaller candles to symbolize this new reality. In this way, they are saying that henceforth their light must shine together for each other, for their families, and for their community."
Contributed by Rev. Clint Hufft.


Native American Indian
Wedding Blessing
"And now you shall feel no pain, for each of you shall be comfort for the other. And now you shall feel no rain, for each of you shall be shelter for the other. And now you shall feel no cold, for each of you shall be warmth for the other. Now there is no loneliness for you. You are two persons, but you now share one Unity of Purpose." (Light the Unity Candle.)